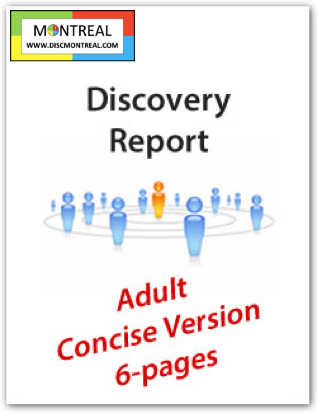 DISC Personality Test, Concise / Mini Version (6-pages)Profile, English Personality Type Report
$12.95 (price in USD)
Discover Yourself is an online personality test (assessment) for adults that generates a 6-page personality report. This version is a popular cost-effective assessment. Your personality test report is customized based on your online assessment that will take you only about 15-20 minutes to complete. Concise, yet very helpful insights. Includes charts and your scores. Some may think of this as a " personality test " or a " personality quiz. " This is not really a test – you can not fail. There are no right or wrong answers, just your individual preferences. Please note that, even though this is our "mini" version of the report, the online assessment is the same one that we use for the full report.
You can also upgrade to the 50-page extended version for the difference in price. In fact, you don't have to take the assessment a second time to upgrade! See product code 3005 for details on the upgrade code option.
This Personality Report version includes the following:
DISC Overview
Summary description
Words that describe you
Strengths
How to be your best
Environment & Team Dynamics
Personality Graphs