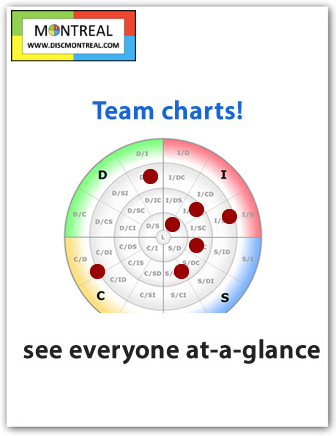 Team Chart Tool
View the DISC Personality Style of Your Whole Team Using Team Charts!
It's like having X-ray glasses to see your team!
What if you had X-ray glasses and could see your team's strengths, needs and interaction dynamics? What if you could reduce conflict? Improve co-operation? Reduce turnover? Boost morale? DISC profiles and team charts give you the tools to do just that. You can help your team reach their full potential and accomplish the following:
Learn the strengths of each member
Understand TEAM dynamics
Discover each team member's personality traits
Identify personality clues that can help build better communication
Visualize your TEAM composite chart for at-a-glance understanding
Learn what motivates each member
and more…
Use this powerful tool to see everyone on one chart to get an at-a-glance view of everyone's DISC personality style. Team charts are useful for looking at team interaction dynamics, seeing a group's personality as a whole, identifying tendencies of the group, and visualizing how individual team members fit in with the group in general. Let us create your team chart today.