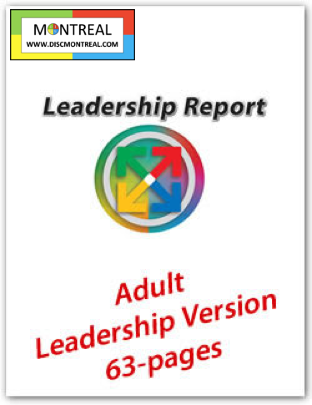 DISC LEADERSHIP Personality Profile (63-pages), English Discovery Report
$69.95 (price in USD)
*disponible en anglais seulement
The DISC Leadership Personality Profile Report is a ground-breaking personality assessment and profile designed to help any person to be more effective as a leader. It features a revolutionary leadership model that will give you a whole new understanding about how to lead others. You will learn about adaptive leadership techniques and be given specific "how-to" guidance. You will receive more than 60 pages of feedback and insights in this comprehensive resource. A user-friendly, icon-based navigation menu makes this report easy to use. You can quickly look at the sections of the report you are interested in. The report is highly accurate, easy to understand and practical to use. The online personality assessment will take about 15-20 minutes to complete after which your report will be instantly available. This is a cutting edge report that combines our best insights using the DISC personality model with our experience in training on leadership for over 20 years.
This Discovery Report version includes the following:
DISC Introduction
Leadership Model Introduction
Adjusting Your Leadership Style
Your Personality Style Description
Words that describe you
Your Strengths
Your Keys to Excellence
Your Basic Motivations and Behavior
Communication style
Priorities & Decision-making style
Your High and Low Traits
Environment & Team Dynamics
Leadership Guides – Detailed Sections on How to Lead Others
Detailed Personality Graph Section
Application Section with Charts and Reference Guides
Review Worksheet
and more …
This is the ideal DISC profile for leaders and those interested in leadership development!