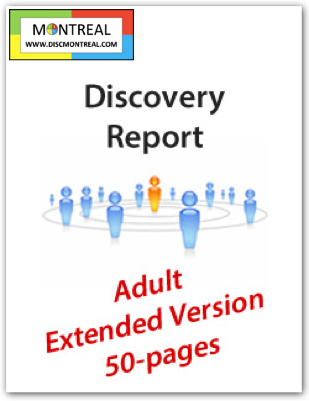 DISC Personality Profile, Extended Version (50-pages), English Discovery Report
$59.95 (prix en USD)
*Rapport de type de personnalité (50 pages) disponible en anglais seulement (voir aussi type de personnalité 6 pages et 30 pages disponibles en français)
You are going to love reading about yourself! The extended length personality report is a very comprehensive personality profile report. All new user-friendly, icon-based navigation makes this personality report fun and easy to read. You can quickly look at the sections of the report you are interested in. There are 50-pages of personalized insights in your personality report. Your personality report will be instantly available after you complete a quick online assessment. The report is highly accurate and easy-to-understand. You can even share your report with others on Facebook and Twitter if you like. The personality report is based on the results of an online personality assessment that will take you only about 15-20 minutes to complete. It is packed full of helpful and practical information to help you to understand yourself, your strengths, possible blind-spots and how to adapt to relate better to others. This is our best seller! You will learn about your strengths, communication style, decision-making style and gain insights for relating with others and improving your ability to work with others.
This personality report version includes the following:
DISC Overview
Summary description
Words that describe you
Strengths
How to be your best
Environment & Team Dynamics
Personality Graphs
Introduction to your style using DISC terms
Communication style
Priorities & Decision-making style
Suggestions for working with you
Communication and presentation tips
Leadership Insights (4 pages)
vWhat to emphasize with each style
Basic style behavior observations
Insights for professional growth
Insights for long-term development
Chart: Basic style behavior
Chart: Communication style
Chart: Priorities & Decision-making style
Chart: High and low traits
Chart: Reading Others
3 tips to remember with each style
DISC – Reference chart to remember
Insights to help you relate to Dominant people
Insights to help you relate to Inspiring people
Insights to help you relate to Supportive people
Insights to help you relate to Cautious people
Perceptions & Insights into the Dominant Style
Perceptions & Insights into the Inspiring Style
Perceptions & Insights into the Supportive Style
Perceptions & Insights into the Cautious Style
Understanding your Environment Graph
Understanding your Real Personality Graph
Chart: Review of DISC Traits
Personality reports are also offered in versions for teens and children. Some may think of this as a "personality test" or a "personality quiz." This is not really a test – you can not fail. There are no right or wrong answers, just your individual preferences. This personality report is very useful for business use and personal use. Get your personality report today … 15 minutes could change your life!